COVID-19
News Update
24th April 2020
As all of our Valued Customers will already know, Translink Express Logistics always strive to go that extra mile not only when delivering your goods, but also by offering an extremely personal 1-2-1 service to all.
During these difficult times we are experiencing extremely large increases in volumes of parcels being shipped around the UK, and much the same as every other network, we are working to keep any disruption to an absolute minimum.
In many cases parcel carriers have chosen to suspend some services and others have chosen to prioritise essential medical and food items only.
During these unprecedented times, we truly appreciate the patience of our customers and their understanding of the challenges that our industry is currently having to deal with.
The spike in volumes has been caused by a number of contributing factors, but the situation has been exacerbated by the necessity to follow the social distancing rules at all times, and deal with a shortage of staff, due to illness and isolation periods.  There are also an enormous number of parcels clogging up distribution networks in the UK, due to the fact that many businesses are currently closed.  Unfortunately, all of these issues can have a detrimental effect on our delivery process.
Here at Translink Express Logistics  we are working tirelessly, behind the scenes, to ensure minimal disruption to services during these times and we will continue to use our best endeavours to deliver parcels on time.
 We appreciate your co-operation and understanding, and ask that you are patient with our Staff, as they continue to do their utmost to ensure that any delay in delivery service is kept to a minimum.
URGENT UPDATE - No More Customer Signatures for Delivery!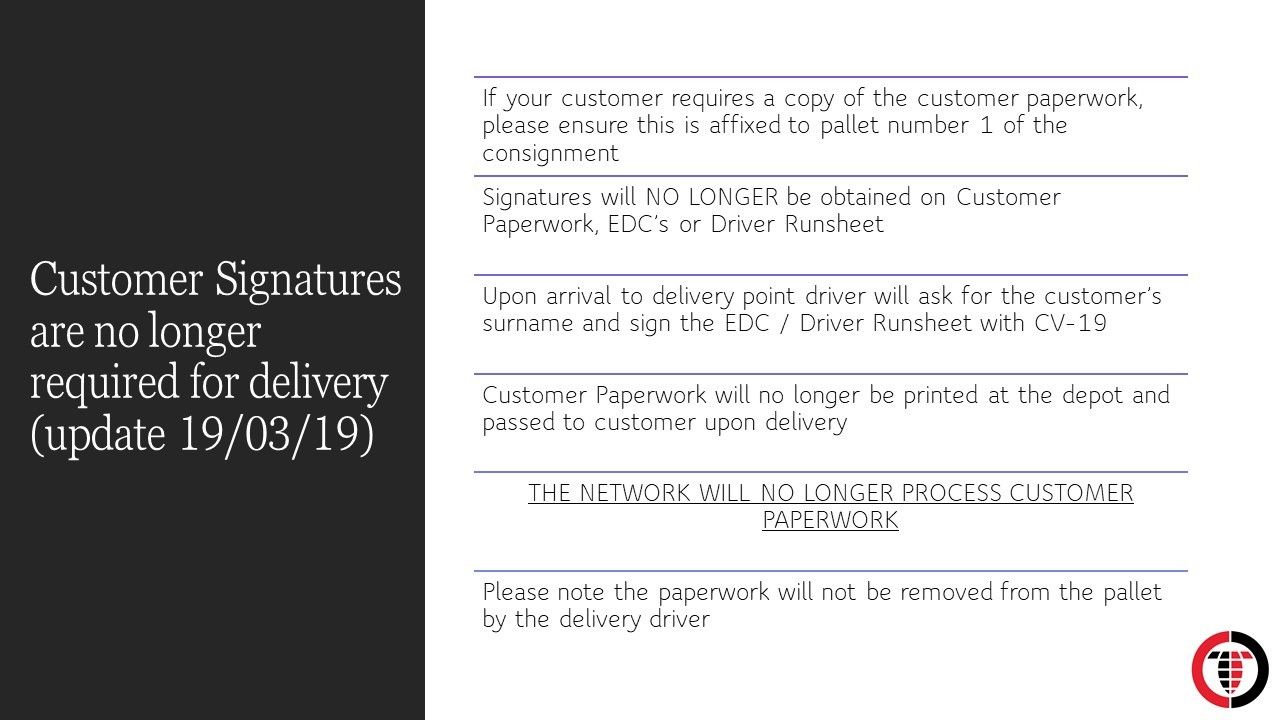 CORONAVIRUS INFORMATION
Translink Express Logistics have put together a short presentation below with up to date information from the government relating to the COVID-19 outbreak. 
We have included all updates for our customer / supplier base.
If you have any questions please give us a call on 0116 275 1555.
Thank you & Stay Safe!